Last week, we shared a first look at this year's exciting auction line up. Today, we're debuting even more packages curated specifically for our outdoor community. With over 50 auction packages to choose from at The Mountaineers 2022 Gala: Adventure with Purpose, you can try new experiences, travel to new places, and take home top-of-the-line gear!
Our in-person Gala will be hosted on Saturday, April 2 at Fremont Studios, and over 90% of tickets have already been claimed. Tickets are available until we sell out! Join us for a reception, dinner, and epic Tyrolean Traverse competition that can only be experienced in person. Our special guests Rick Ridgeway and Dianne Roberts will share campfire-worthy stories during our camp-themed event. Plus, you'll take home a few gifts and fun surprises!
New this year: Start your bidding early with our online auction! No more monitoring paper bid sheets – now you can socialize with your friends at the Gala or stay cozy on the couch at home while placing your winning bids directly from your phone. Bidding opens on March 25 for in-person and virtual attendees, and closes at 7pm on April 2. 
Auction Preview: Round #2 
Final auction packages are still under development and may be subject to change. A finalized list of items, values, and auction donors will be available when the auction is published on March 25. 
Trek to Everest Basecamp in 2023 with Madison Mountaineering 
Follow in the footsteps of legends as you trek to the fabled base camp of Mount Everest's South Col route. The expert staff of Madison Mountaineering – one of the world's leaders in high-altitude guided climbing – provide a completely dialed-in experience. 

Along the way to Mount Everest's base camp, you will pass through mountain villages lined with fluttering prayer flags, stupas, and gompa monasteries – including the Pangboche Monastery, where you and the season's Everest climbing team will receive a blessing from the High Lama of the Khumbu Valley. Once reaching Everest Base Camp at 17,800 ft. you will see the famous Khumbu Icefall and the challenging first segment of the route. Afterward, near the highest village of Gorak Shep, you will ascend Kala Pattar for a striking view of the summit of Mount Everest, before starting the return journey to Lukla and onward back to Kathmandu.

This one-person package includes accommodations in Kathmandu, round-trip airfare from Kathmandu to Lukla, park and porter fees, and all accommodations and meals while on the trek. Dawn your new Madison Mountaineering swag including a hooded down jacket, cap, UV-protective buff, and t-shirt. For the plane ride, we are also including a copy of Leif Whittaker's memoir, My Old Man and the Mountain, published by Mountaineers Books.
Drawn to High Places: Nikki Frumkin Original Painting Commission
Nikki Frumkin is a well-known artist and alpinist based in Seattle, Washington. Capturing  the summits and ridges of the Cascades, you will find her work full of lively landscapes, mountain peaks, and movement. She expresses the spirit of the mountains with each brush stroke and has been featured in exhibits across the country. 

Nikki's art is inspired by time spent hiking, climbing, and mountaineering, and she can often be found strapping huge sheets of paper to the outside of her pack to capture the perfect landscape. Bring the beauty of the Pacific Northwest into your home with a custom commissioned 22.5x30" painting! 

Work with Nikki to identify a place, peak, or activity that has special significance for you and she will bring it to life with vibrant color and energetic lines. Added details like a glowing tent, silhouetted figures, or a beloved piece of gear will bring your personal memories and ambitions to life in this stunning addition to your home collection.
Private Dinner Party with Rick Ridgeway: Buy-In Experience
Sunday, April 3, 2022 | At a private home in West Seattle
The man. The myth. The legend. Rick Rideway is attending a private dinner and you're invited! Our special guest will be sticking around Seattle for an extra day to attend a fully-catered dinner at a beautiful private waterfront home. The master storyteller can share tales of his first American summit up K2, first direct coast-to-coast travels of Borneo, or first crossing on foot of a 300-mile corner of Tibet. Hear candid accounts from one of the world's most prolific mountaineers and explorers.

If you're interested in learning more about conservation in the outdoors industry, you can chat with Rick about his impactful career at Patagonia, where he spent 15 years leading cutting-edge initiatives in sustainability. His legacy is undeniable - don't miss out on this once-in-a-lifetime opportunity to share a meal with a legendary mountaineer!
Pie Baking Class with Mountaineers Conservation & Advocacy Director Betsy Robblee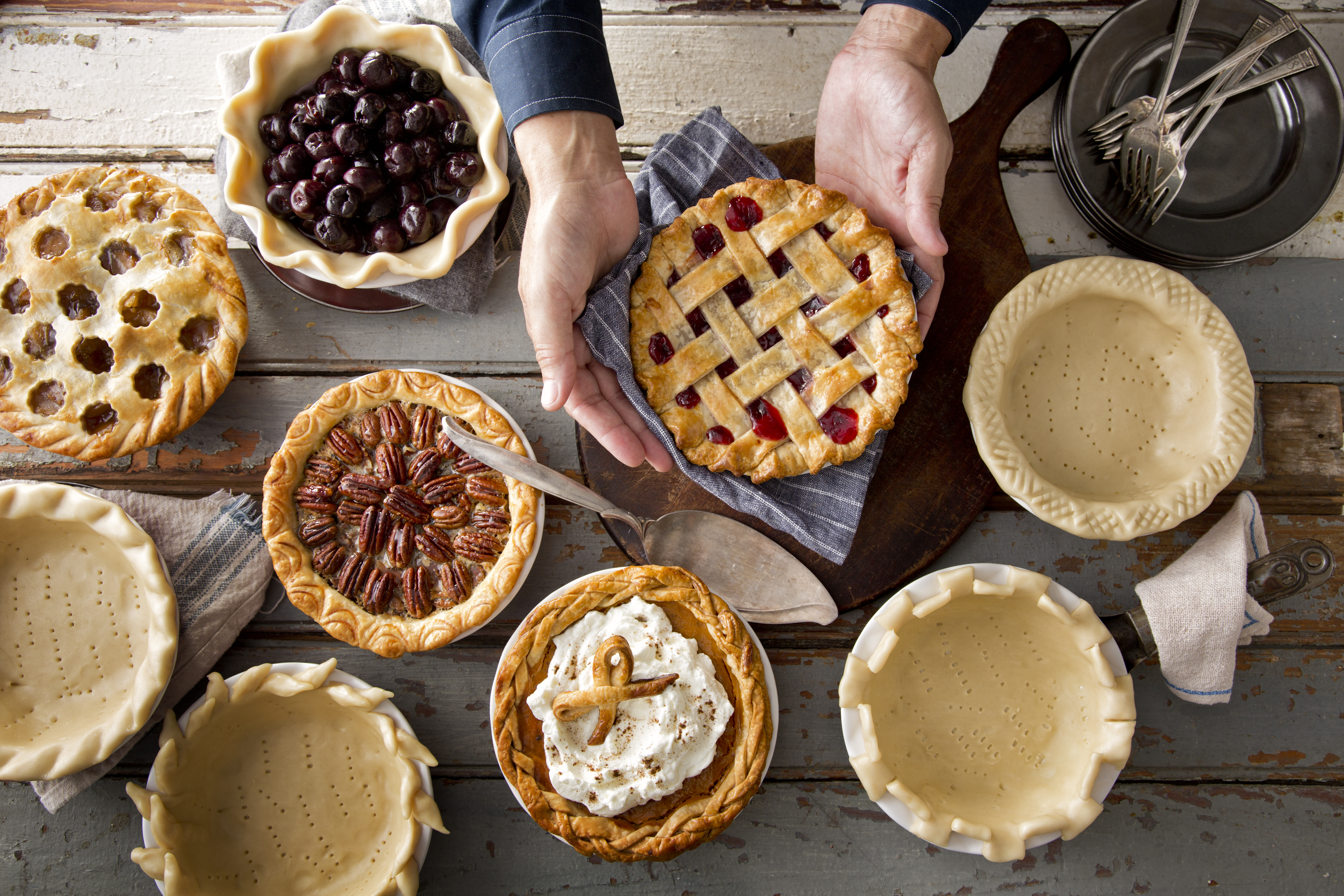 Are you a Great British Baking Show fan? Or maybe you're intimidated by the idea of a Thanksgiving pie? Have no fear, we've got a pie baking class for you! Learn how to master pie crust, special techniques like blind baking a crust, and using seasonal fillings from summer berries to fresh pumpkin. Your teacher will be Mountaineers Conservation and Advocacy Director, Betsy Robblee, a culinary school graduate who used to sell pies at local farmers markets. Betsy will host you and three friends at her home in Seattle with wine, appetizers, and an evening of baking. 

As part of this package, take home a copy of Mountaineers Books title, Scraps, Peels, and Stems to get in the mood to start from scratch. Join us for a pie-stravaganza and leave with your very own perfect pies to take home. No soggy bottoms here! 
Can't join us in person? 
To be inclusive of our extended community, we are offering a way to participate from afar. This year's hybrid event will allow both in-person and at-home attendees to bid on the same items in our virtual auction. Additionally, watch the virtual presentation from the comfort of your own home beginning at 7:30pm on Saturday, April 2. You must register for a virtual ticket or in-person ticket to bid in the online auction.
---
The Mountaineers online auction will go live on March 25 and our in-person event will take place on Saturday, April 2. Register today to make sure you are on the list to bid on these once-in-a-lifetime opportunities.
Our in-person event will adhere to recommended COVID-19 guidance from King County, Washington State, and the CDC. As an added precaution, attendees are required to be fully vaccinated and take a rapid test. Negative PCR test results will not be accepted in lieu of vaccination to attend the event in-person.