November is a time to be grateful not only for leftovers, but for stunning adventures and perfect days exploring with The Mountaineers. This month there was a surprising amount of blue sky that made for sunny lunch breaks, great weather conditions, and wonderful photographs of our iconic mountains.
Fall can still be seen in the colorful foliage and pockets of sun peeking through clouds, but the recently snow-capped mountains and chilling conditions hint at the beginnings of winter. While some trips experienced some unexpected snow, that didn't keep Mountaineers from embracing adventure. For November's Top Trip Reports, enjoy a clear-skied day hike with breathtaking mountain views, a tasty bikepacking trip featuring island treats, a surprise snow during a backpack, and more! 
Bikepack - Cascade Trail, Nov 12 & 13
"The trail was in good condition for nearly the full route. Much of the trail was covered in a blanket of fall leaves, and it was a smooth ride on our gravel and mountain bikes. Recent windstorms had left one blowdown blocking the trail which required a hike-a-bike to navigate around and over, and other blowdowns that partially blocked the trail were straightforward to ride around." - Dave Bryan
These bikepackers on this trip sure know how to have a good time. As any sensible group would do, they made a pit stop at the bakery before hitting the campsite and even planned ahead for next morning's breakfast by buying some extra cheesecake. After sharing some warm food and beer at Birdsview Brewing Company they arrived at camp and shared even better conversation by the campfire, waking the next morning to a communal cheesecake breakfast and a sunny ride home. We hope you saved a slice of cheesecake for us! 
Day Hike - Sequalitchew Canyon & Edmond Marsh, Nov 13
"The weather cooperated and the sun broke through as we reached the beach for lunch. The sunshine highlighted the fall colors. The area is rich in historical sites which added interest to the trip." - Jacqueline Fritz 
This was a very intentional and mindful trip that incorporated discussions about the history of land, people, and industry involved in the Sequalitchew Canyon and Edmond Marsh area. If you want to learn more about how to incorporate mindful recreation and land acknowledgement statements into your hiking experiences, take a look at the land acknowledgement statement offered by this trip report.
Day Hike - Shady Lane & Staircase Rapids, Nov 20


"The road changes to gravel near the Mount Rose Trailhead and can have some rather large potholes and washboarding.  My Subaru Forester was fine on the road today; we went slowly and dodged as many potholes as we could.  The many shades of greens contrasted with the snow, blue skies, and always beautifully clear river to make for a beautiful hike. " - Becky Andrade 
Winter is approaching! This trip experienced more snow on the trail than expected and withstood some slippery bridge crossings that were made safer by the much appreciated handrails. Although the sun peeked through, the weather was still chilly and ice melt was at a minimum. 
Backpack - Baker Lake, Nov 5 & 6
"Once we returned to camp it was time for hot drinks, early dinners, & we got the campfire going. It was a great evening of conversation & fire/smoke dancing before retreating to our tents around 7:30pm. We noted how lucky we had been - a relatively dry day (sprinkles on & off all day, but no drizzle or rain)." - Janette Powell
This trip was fortunate to have a great crew of experienced hikers that were well equipped to backpack in the cold weather and brave the unexpected snowfall that blanketed tents and awoke campers in the early morning. The hikers, who were hoping to catch the last of fall's colors, were pleasantly satisfied by the plentitude of maple trees that dotted the trail. Kudos to this crew for embracing snowy shoulder season adventures! 
Sea Kayak - Case Inlet, Nov 8
"This turned out to be a fantastic day. Due to the unusual forecast of strong northeast winds, we changed the launch point to Grapeview - Fair Harbor Marina. This would allow us to do the upwind portion of the trip in the morning and have the wind at our backs on the return." - Will Greenough
The happy kayakers of this trip got to enjoy views of the newly frosted Olympic mountains during their paddle and even stopped by Victor, Case Inlet to check out the petroglyphs. Their post lunch ride back involved playful surfing of wind waves providing a great cap to the adventure and leaving the group to arrive back at home "with smiles on our faces."
Winter Scramble Review - Tiger Mountain, Nov 12
"A great winter scramble tune-up, with clear/cold weather (to verify our emergency clothing/gear), and a lengthy/confusing network of trails (made even more so by recent logging) to hone our conditioning/navigation skills." - Dave Morgan
Participants on this scramble made the most of the fall daylight by packing their day with informative discussions about gear and ample scrambling practice. Some recent logging provided great terrain to practice off-trail hiking. As the trip leader describes, participants spent two hours in the cold weather discussing the merits of gear and also witnessing their heat-holding capacities first hand. For a practice trip, quite a bit of elevation and miles were covered! 
Scramble & Snowshoe - Norse Peak, Nov 13
"The snow was constant from the gated FS road, all the way up to the ridge, with easy travel in the slightly packed, crisp, powdery snow. At about 6100 feet we finally tired of irregular post holing and donned snowshoes. On the ridge, there were some cornices, all stable, with intermittent bare rock, making walking the ridge a bit tricky with snowshoes, especially when routing through the treetops." - Michelle Peterson
In this trip report, enjoy what a "perfect day" just before the beginning of ski season at Crystal Mountain looks like. Hint: it involves limited traffic, prime lunchtime views of surrounding volcanoes, and animal track sightings. Even though they essentially had the trail to themselves, some previous hikers did the difficult work of paving the snowshoe path so all they had to do was follow the footsteps. 
Day Hike - Tatoosh Ridge, Nov 19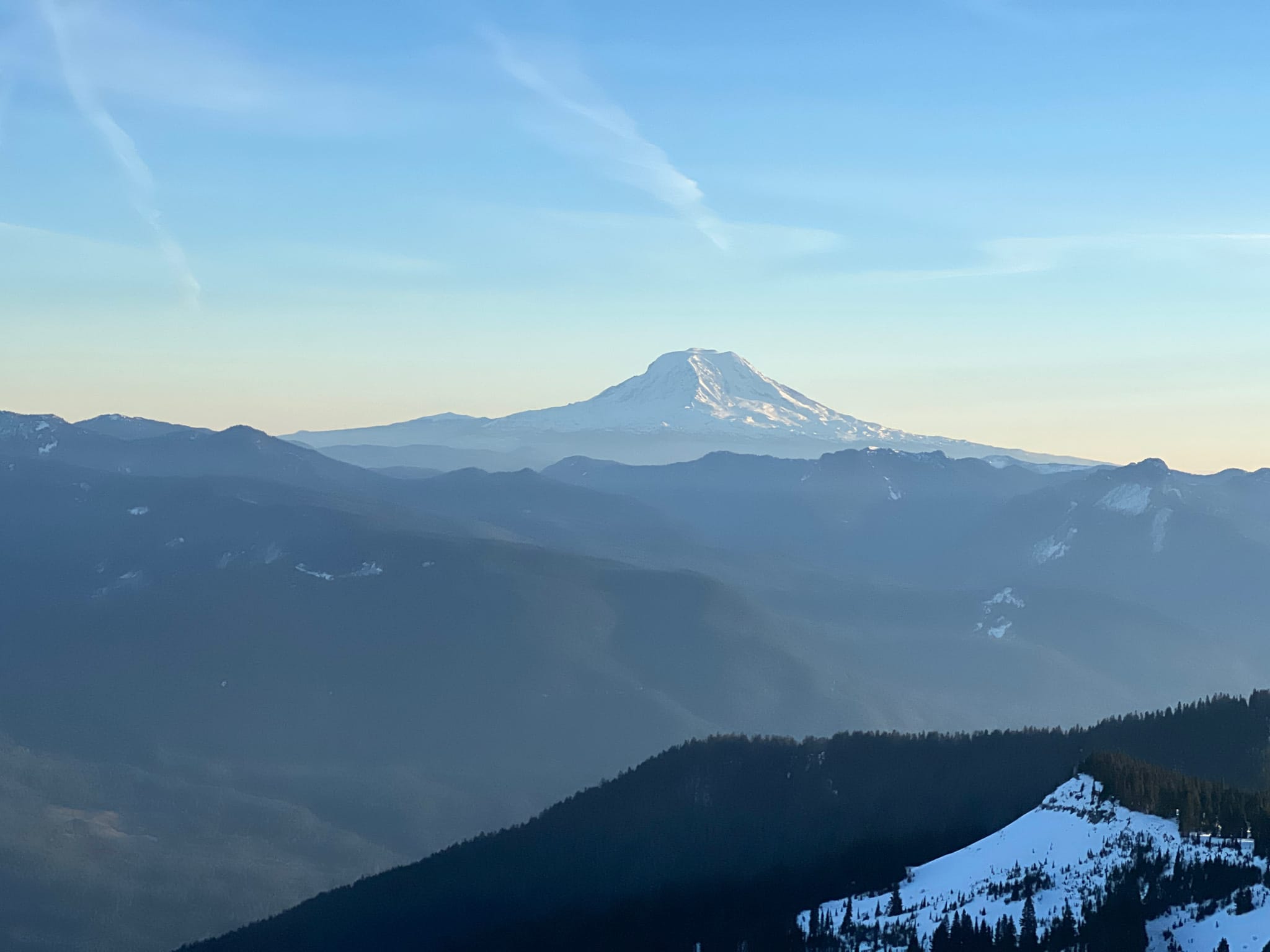 "Two sections to summit are a bit sketchy, steep cut through, but once getting over it's relatively easy. I followed foot tracks and I felt comfortable. Then I hiked from the summit to the ridge, there's one spot quite exposed. I circumvented that spot, but on the detour it was still steep and I slipped and had to self arrest." - Zihao Deng
This trip report is an excellent example of why trip reports matter. After reviewing past reports of this route, the hike leader followed advice and brought an ice axe which ended up being put to good use during a steep section of the trail. Included in this report is also some helpful tips on what gear to bring as well as some marvelous photos of Mt. Hood, Mt. Adams, Mt. St. Helens, and, of course, Mt. Rainier.
DAY HIKE - MAILBOX PEAK, NOV 26
"As expected, the old trail was in its usual steep, rooty, rocky condition for a great workout. Snow started roughly around 2,000' and got increasingly deep with about a foot or two at the summit. It became a little hard to see where the "trail" went while still in the trees, but that was part of the adventure!" - Nancy Lloyd
If you are in the mood for some winter wonderland, check out this trip report! A day hike turned scramble, these hikers enjoyed great weather, beautiful views framed by swirly clouds, and some challenging snow-covered traversing and trail-finding that everyone embraced with adventurous excitement.  
Sea Kayak - Hood Canal Triple Cross, Nov 12
"After paddling a short distance into the Dosewallips River for a quick break, we crossed over to Tskutsko Point where we stopped on the beautiful beach for a leisurely lunch in the sunshine. A couple came by in a kayak and a rowing shell from Fisherman Harbor and we had a nice conversation." -Will Greenough 
Another wonderful kayak trip with views of the snowy Olympic mountains resulting in a "stunning day." These kayakers avoided a run-in with some duck hunters on one of the islands, lucked out on a sunshine-filled lunch, and left many helpful notes detailing the conditions of the launching spot, restroom availability, and other recreational pleasantries like local beach spots. 
---
We love reading your trip reports! You can find recommendations for how to write a solid report here.