It took a lot of practice, but I finally learned how to poop directly into a dog bag. I'd been getting outside for years – crag climbing and backcountry skiing mostly – and I wasn't a fan of carrying a trowel and digging a six-inch cat hole. Instead, I'd find a private space, answer the call of nature directly onto the ground/snow, then pick it up (double bag!) and pack it out (toilet paper too!).
Then on a trip in 2018, a climbing partner and I were talking about our pooping preferences. They shared that my preferred method was leaving poo traces on the ground, which is a no no. I vowed to learn the proper techniques to dispose of human waste, and I'm here today to help you figure out the right backcountry pack-out pooping solution for you.
For this blog, I asked the outdoor community to share their best tips to pack out #2. I recognize that many of us learned to bury our poo in a six-inch hole off trail, and that many backcountry travelers still follow that practice today. However, studies show that there are long-term effects of leaving poop in the ground (high levels of pathogens remain in feces long after burial), and the etiquette of pooping in the outdoors is changing in response.
That's why you need a backcountry poop kit. 
What to include in a backcountry poop kit
Your backcountry poop kit should have everything you need to pack out poo. This includes things on which to poop, should you not be pooping right into a bag, and containers in which to carry your specimen out without leaks and stinks.
A good backcountry poop kit contains:
A bag, or bags, to hold each individual deposit. Sturdy and leak-proof are essential bag requirements.
Toilet paper (I recommend removing the TP from the roll to save space/weight), and theoretically a bag in which you keep said toilet paper (to keep it clean and dry).
Hand sanitizer.
If you don't mind the added weight:
Add a target, like a newspaper, on which to poop (doubles as a fire starter!)
Consider the luxury of wet-wipes (doubles as a shower!)
For that extra clean feeling, a number of people recommend a backcountry bidet.
For many, the Gold Standard backcountry poop kit is available at the Ranger Stations around Mt. Adams. Visitors can pick up an expertly packed poo kit, including a paper target, two paper bags, one containing just-enough-but-not-too-much kitty litter, toilet paper, and a heavier duty plastic bag to carry the whole kit and caboodle. 

Instructions for how to use a backcountry poop kit, or human waste pack-out system, available for free in the Mt. Adams Wilderness. Photo by Sara Ramsay.
Create your own backcountry poop kit
Backcountry poop kits can come in all shapes and sizes, and vary by weight and complexity. You'll eventually dial the right balance for your particular bowel movements. For example, some people get into the backcountry and, for whatever reason, their #2 production system stops working temporarily. For others, the backcountry offers a sweet release from every day stresses and the system flows more freely than normal. As a result, you may need less or more kit than others.
Always err on the side of more supplies – having to reuse a dirty poop bag is not a lesson you want to learn the hard way.
Poo tips & tricks from the outdoor community
From roughin' it to glamping, backcountry poop kits are a personal, not to mention creative, affair. Here are additional tips from the community to help you build the backcountry poop kit of your dreams.
"I buy a roll of non-clear dog bags for the "inside out" portion of the activity, then it goes into a ziplock that is too scuzzy to be reused for food. I keep a clean ziplock of TP, 2-3 dog bags, and 1-2 dirty ziplocks in a larger ziplock (keep that TP dry!). The packet lives in my first aid/10 essentials bag and is refreshed as needed." – Meredith Anderson
"1/4 cup kitty litter in a white small trash bag. Wrap that up, tie, put inside gallon ziplock. Put that in a dedicated dry bag for good keeping." – Jeremy Rathfon
"I include a small roll of opaque black doggie bags. Use one bag as a glove to pick up your special delivery, then deposit into one (or two) additional bags for smell control. Ideally, I then repack that into a used Mountain House food zip and then into my designated refuse bag." – Michele Arnold
"I cut up a paper grocery bag for the target (including bullseye). I include at least one extra plastic bag as a wrapper, and store the kit in a ziploc bag (in case you have to pack it out). But, to be honest, I've only used the thing on a glacier, where the paper bag was not packed up to bring home, but instead folded up and dropped into a crevasse. Bombs away." – Lowell Skoog (Editor's Note: No longer an acceptable practice, this was the norm on many big mountains for decades.)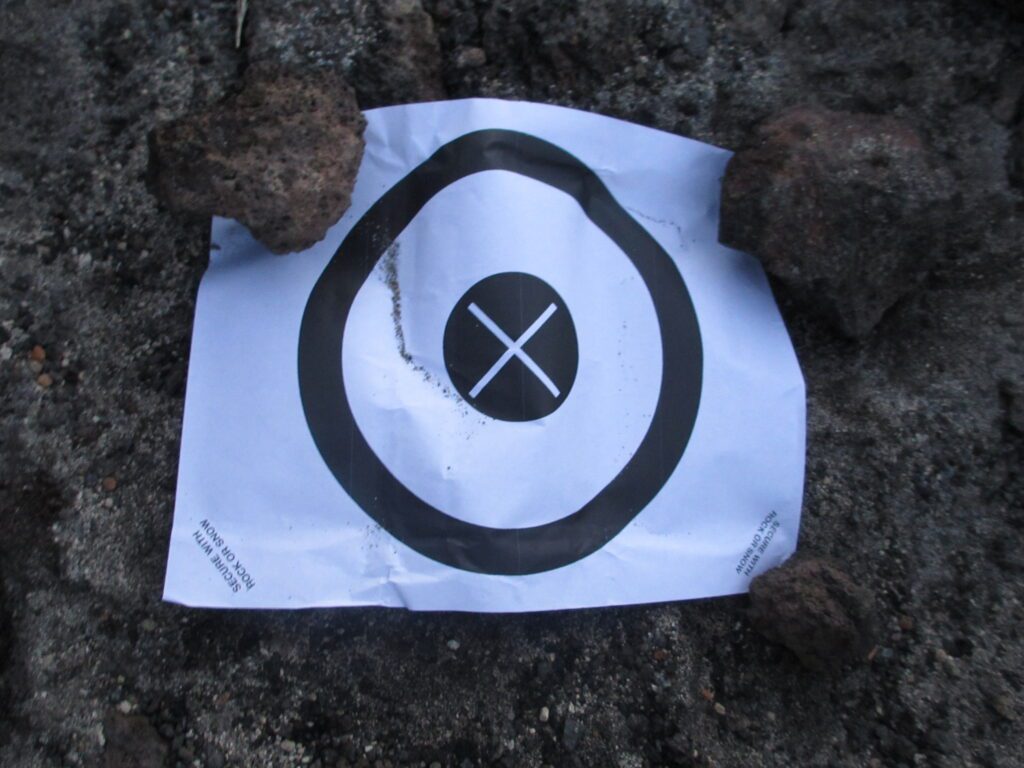 Mt. Adams poop target in action on a climb in 2012. Photo by Kristina Ciari.
If you're worried about the bags bursting, even when double bagged, here are some extra tips to keep that poo contained:
"Don't judge me, but dog poop bags and a Pringles can. If it's good enough for my dog's poop, it's good enough for me." – Kaelee Chang
"Bread bag and Talenti jar." – Lenore Alicia
"My newest addition is an odor proof dry sack." – Tina Mari Fox
"Empty freeze dried food bags provide the best odor control. I use the Mt. Adam bags from the rangers and then put that in the empty food bags to minimize odors." – Gregory Patton
 "My kit is named "Mr. Stinky." Mr. Stinky is an old, clean Costco peanut butter jar that is the hard-sided container to carry out my waste. I decked Mr. Stinky out with some dope stickers, and he gets a bleach spray every few months. After my first trip I added a taped-on strip of fabric as a seatbelt after Mr. Stinky escaped from the outside of my pack and tried to make a great glissade escape. I really like having a hard-sided container – I am super sensitive to smells so I definitely do not want any kind of bag inside my pack. I also do not have to worry about puncturing a bag (seen that happen) or ravens getting into an improperly cached bag (they often think bags will have food), and then in retaliation spread TP and poo all over camp. I kid you not. Vindictive a**holes, but I still love ravens. Inside, I use the thicker blue bags that you get at climbing trailheads or ranger stations." – Claire Giordano
Want to hit the 'easy button'?
Making your own backcountry poop kit isn't for everyone. You can buy WAG bags, short for Waste Alleviation and Gelling, at most outdoor retailers. WAG bags have the added benefit of a waist belt, so you don't have to squat while using the two-thumb-two-finger method to hold open the bag at your rear. Remember you'll still need to bring your own toilet paper and hand sanitizer.
Got a tip I missed?
Leave it in the comments so everyone can appreciate your backcountry poo savvy in all its glory!
Main Image: Mt. Adams Wilderness Human Waste Pack-Out System, deconstructed. Photo by Sara Ramsay.